Protect your wealth for generations to come with a Platinum IRA.
Don't let anyone else control your money. Secure it today.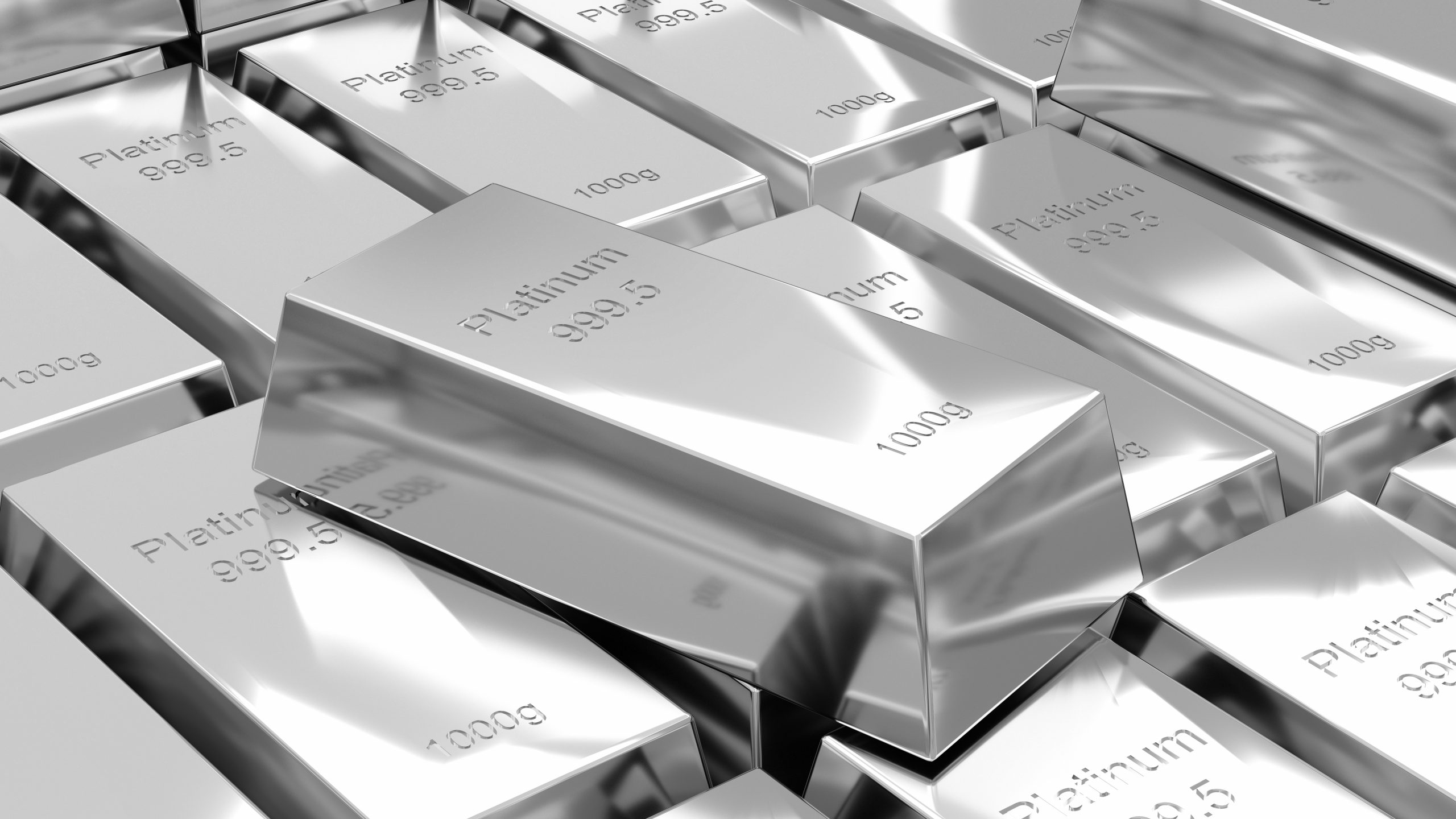 Should You Own A Platinum IRA?
Owning platinum in an IRA is a smart choice for anyone looking to diversify their portfolio, protect their wealth and hedge against market volatility. By owning platinum, you will add a tangible asset to your portfolio, which can help reduce overall risk and increase the chances of achieving long-term financial goals. In addition owning platinum in an IRA can offer you significant tax benefits.
Don't wait for inflation to completely devalue your dollars. Don't give anyone else power to have control over your spending power. Now is a great time to transfer your IRA to a Platinum IRA.
To qualify as IRA eligible precious metals, the following minimum fineness requirements must be met:
Gold must be 99.5% pure, silver must be 99.9% pure, and platinum and palladium must both be 99.95% pure.
Bars, rounds and coins must be produced by a refiner, assayer or manufacturer that is accredited/certified by NYMEX, COMEX, NYSE/Liffe, LME, LBMA, LPPM, TOCOM, ISO 9000, or national government mint and meeting minimum fineness requirements.
Proof coins must be encapsulated in complete, original mint packaging, in excellent condition, and include the certificate of authenticity.
Small bullion bars (other than 400-ounce gold, 100-ounce gold, 1000-ounce silver; 50-ounce platinum and 100-ounce palladium bars) must be manufactured to exact weight specifications.
Non-proof (bullion) coins must be in brilliant uncirculated condition and free from damage.
IRA Approved Platinum
Not all platinum coins, proof coins, bars, and rounds are created equal. In order to be eligible, the products must meet a specific fineness requirement of .995, with the exception of American Eagles. However, there are many qualified precious metals that can be placed in a Platinum IRA. Though IRAs were once limited to only holding American Eagle products, today, IRAs include all IRS-permitted gold, silver, platinum and palladium products. Thanks to the Taxpayer Relief Act of 1997 which expanded the precious metal holdings allowed in IRAs to include one, one-half, one-quarter or one-tenth ounce U.S. platinum coins and one-ounce silver coins minted by the U.S. Treasury Department, along with certain foreign coins.
At Gold Safe Exchange you'll never pay retail and you will always work directly with highly experienced team members. Leading industry professionals with a wealth of experience, we've held senior positions at the largest retail precious metals firms in the U.S. We eliminate multiple layers of executive and shareholder compensation and work directly with you to secure the most competitive pricing on gold and silver. For more information on IRA-eligible platinum coins, proof coins, bars, and rounds or to learn more about rollovers, transfers, and other platinum IRA details, call Gold Safe Exchange today 1-800-341-6727.
American Eagle bullion / proof coins
United States Mint
Weight: 31.103 g.
Content: 1 Troy oz.
Purity: 99.95 fine
Diam: 32.70 mm
IRA Eligible: Yes
The Platinum American Eagle coin, authorized by Congress in 1996 and first released in 1997, is a highly popular bullion coin. Its eye-catching design, high platinum purity, and legal tender status make it a sought-after item. Weighing one troy ounce and made of 99.95% pure platinum, the coin is struck from one of the rarest metals in the world. Platinum is 30 times rarer than gold, and if all the platinum ever mined were combined, it would only fill a few inches of an Olympic-sized pool. Gold, by contrast, would fill three pools. Most of the world's platinum is sourced from just five mines, four in South Africa and one in Russia.
AUSTRALIAN Koala bullion coins
Perth Mint
Weight: 31.103 g.
Content: 1 Troy oz.
Purity: 99.95 fine
Diam: 32.10 mm
IRA Eligible: Yes
The Perth Mint introduced the Australian Platinum Koala coin series in 1988 after the Australian government approved platinum and silver coin minting on June 18th, 1987. The American Platinum Eagle is among the few major platinum bullion coin programs still in production along with the Australian Platinum Koala. On the reverse of the 1 oz Australian Platinum Koala coin is an image of a koala, a unique symbol of Australia not found in the wild outside the continent. Coins from 1988 to 1997 feature a third-generation portrait by Raphael Maklouf, and from 1998 to present, a fourth-generation right-profile portrait by Ian Rank-Broadley.
CANADIAN MAPLE LEAF BULLION COINS
Royal Canadian Mint
Weight: 31.103 g.
Content: 1 Troy oz.
Purity: 99.95 fine
Diam: 30mm
IRA Eligible: Yes
The Canadian Platinum Maple Leaf Bullion Coins were first minted in 1988, continuing annually until 2002. Mintage resumed in 2009 and continues till now. The coins are .9995 Fine, making them highly pure. The design has changed annually with proof releases, privy marks, holograms, and commemorative variations in different metals, but the core features of the Maple Leaf have remained unchanged since 1979. The 2022 design features radial lines, a micro-engraved laser mark, and a privy maple leaf with the number 22 (for the year of issue) micro-engraved as a security feature only visible under magnification.
ISLE OF MAN NOBLE BULLION COINS
Pobjoy Mint
1 oz.
Content: 1 Troy oz.
Purity: 99.95 fine
Diam: 32.69
IRA Eligible: Yes
The Isle of Man have produced a range of platinum coins called Nobles since 1983. The range of weights start at one twentieth of an ounce and go up to ten ounces. They are not made every year in all sizes, the last one ounce size issued was in 1997. The reverse design features a Viking ship. The reason behind this is that the original noble coins were produced back in the 14th century, under the reign of King Edward III. The design on the original coins shows King Edward III with a ship.
Frequently asked questions
What Kind of Accounts Can I Rollover or Transfer?
You can rollover or transfer the following types of accounts into a precious metal IRA:
Traditional IRA
401(k)
401(a)
403(b)
457(b)
TSP
SEP IRA
Non-IRA investment accounts (e.g. brokerage account)
Note: The IRS rules regarding precious metal IRAs require that the precious metal held in the IRA meet certain fineness standards and be stored with an IRS-approved depository.
Why Do I Need a Custodian?
A custodian is required for a precious metal IRA because the Internal Revenue Service (IRS) regulations state that all self-directed IRAs, including precious metal IRAs, must be held with a custodian. The role of the custodian is to oversee the management and administration of the IRA, ensuring that all transactions and investments meet the IRS rules and regulations. The custodian is also responsible for holding the precious metal and ensuring that they are stored in an IRS-approved depository. This helps to ensure the safety and security of the assets in the IRA.
Why Do I Need to Use a Depository?
A depository is required for a precious metal IRA because the Internal Revenue Service (IRS) regulations state that all precious metal held in a IRA must be stored in an IRS-approved depository. The purpose of using a depository is to ensure the safety and security of the assets in the precious metals IRA, and to provide an independent third-party storage solution for the precious metals.
The role of the depository is to hold and protect the precious metal investments, and to provide periodic statements and valuation reports to the custodian and the IRA owner. The depository is also responsible for the proper insurance and security of the precious metal, including any necessary measures to protect against theft, loss, or damage.
By using an IRS-approved depository, the assets in the retirement funds are kept separate from the custodian's own assets and are protected in the event of bankruptcy or other financial difficulties. Additionally, having the precious metals held in a depository helps to ensure that the investments meet the individual retirement account rules and regulations for self directed IRA.
How Do I Sell My Precious Metal?
Precious metal are insured real property much like your home. However, unlike your home, which is limited to a very narrow pool of buyers, i.e. that specific property, at that specific price, in that specific zip code, etc., gold is recognized as money the entire world over. In fact, Gold is the second most traded commodity in the world after oil.
You can sell as much or as little of your precious metals to anyone, at any time, anywhere in the world. Where Gold Safe Exchange will be happy to provide an offer to buy back your metals, you are in now way obligated to sell back to us.
Can I Have The Metals Sent to My House?
Absolutely! You can definitely have your precious metals delivered to your home. There are several different options and pathways to achieve this. Our experts will be happy to go through these options with you.